PR - 2016112401 - New Yoswit devices take the hassle out of installing smart switches in the home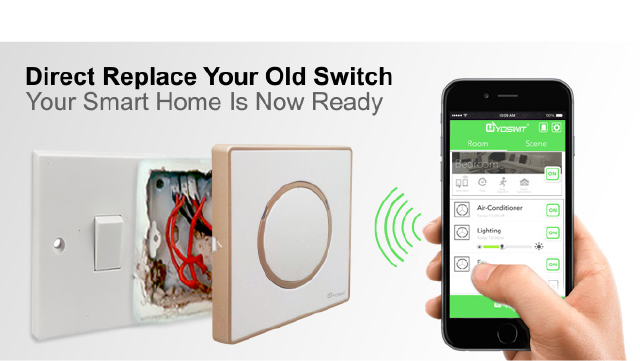 The easy way to replace typical light switches with exciting new smart home technology has arrived with Yoswit's Bluetooth controlled light switches. Yoswit, a leading supplier and designer of products that are leading the way in smart home technology, have kicked off a crowdfunding campaign to launch its unique concept into the mass market and take the hassle out of installing smart switch in the home forever.
Homeowners might mistakenly believe that creating a smart home requires a vast amount of expensive work and a change in their setup. But Yoswit light switches work with existing wiring, whether properties have a neutral wire or not, and can simply be installed using a screwdriver. The devices work in conjunction with other appliances and don't require a separate hub to function, making the whole installation process simple, stress free and inexpensive.
Yoswit supply for the four most common power sockets (AC 100-240V) and offer lighting options ranging from dimmer switches, curtain switches and on/off switches, so you can tailor your smart switch to the vibe or purpose of each room. There is also a choice of 23 colors for the Yoswit switches, which can also replace ordinary cooker switches as well as control an array of household appliances remotely.
Colin Ng, Marketing Manager of Yoswit, said, "The future of living is moving in the direction of smart solutions that are quick to install and simple to use. We have created a solution that is adaptable to almost every appliance of power source within the modern home, something that Yoswit are leading the market with."
The company uses Bluetooth technology but not as the consumer already know it. Yoswit have reinvented the tech to make it perfectly suited for smart homes, offering mesh and remote control through its innovative mobile-as-hub gateway design. Using Bluetooth at its core means Yoswit products are user friendly, stable, low on power consumption and can be controlled though a smartphone app, whether in or outside the house.
Ensuring all appliances and lights are switched off, even from a distance, can not only make your living space safer, it can also save money on bills. Any household appliance can benefit from becoming a smart device with Yoswit, including electric doors, stoves and ceiling fans. By placing the smart bulb converter, plug and IR remote within the home, everything is managed conveniently through the app.